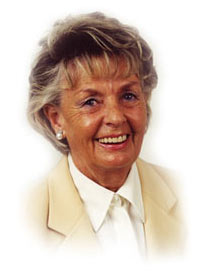 Since its foundation more than 85 years ago, the company Gebr. Brasseler has established its excellent reputation with the Komet brand in the dental sector, which stands for competence, quality and innovation. The Niehus family has always been very closely connected with the company, working for the success of Gebr. Brasseler at all times. The associates Clair Niehus (née Brasseler) and her daughters are aware of their social and corporate responsibility and they attach great importance to the qualification of the employees, to the investment in modern buildings and production equipment as well as to the close dialogue with customers and business partners.

"Today we are an accredited leader regarding innovations and have one of the largest production ranges of rotary instruments and systems for dentistry world-wide. We are very proud of being one of the few successful family businesses in the dental sector. Thanks to lean management and a high decision-making power on all levels, we remain open to future challenges while maintaining independency of our company. To Gebr. Brasseler, tradition is both, obligation and the perspective to cope with all future challenges". Clair Niehus


Order picking, High rack storage, Labelling, Logistics centre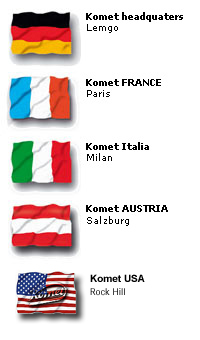 The Komet brand set out to conquer the world and is now synonymous for precision and reliability in all parts of the globe. Quality products made by Brasseler are available in more than 100 countries world-wide. Direct distribution became the most important key to success which consequently
led to the foundation of subsidiary companies.
The globalisation of the markets and the broadly diversified product lines placed high demands on merchandise planning and logistics. A high service level and prompt delivery are assured by an integrated goods management system and an ultramodern logistic centre.
Logistic centre
High Tech is always present, even in logistics. In order to meet customers' ever growing expectations regarding delivery service and speed of delivery, a fully computerised high-rack storage system was established to lend support to the storage and shipping departments. Every day more than 1.500 consignments are dispatched.
The direct way is the better way Competent medical product advisers maintain the personal dialogue between Komet and its customers. Clients in the USA, France, Italy and Austria are looked after directly by Komet's local subsidiaries.


A highly qualified Research & Development team is using all its expertise
to ensure that new trends are not only recognised at an early stage but also
that these trends are transformed into modern, frequently unique and
patented products. The intensive dialogue with practical users facilitates
the development of demand-oriented solutions in line with dentists'
individual requirements. Komet innovations of today often set the standards
for tomorrow and are a deciding factor for the international competitiveness
and the economic success of the company.
Precision to the millimetre
Komet products are subjected to a series of extensive tests and measurements in
the R & D laboratory prior to serial release.Our specialised instruments Progress
in dentistry nearly always entails new methods of treatment and new materials.
The special instruments developed by Komet are highly efficient problem solvers,
facilitating dentists' daily work.
Lege artis
Komet sets standards, for example in micro-preparation. The filigree
diamond and tungsten carbide instruments allow a gentle preparation
without blocking the view of the treated area. Assuring the maximum
conversation of natural tooth substance, they comply with the requirements
of modern dentistry.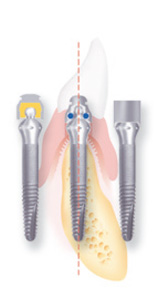 Komet is recognised as a competent partner in research and training.
Our sets of instruments are put together to suit individual requirements
and are frequently an integral part of students' education.

The close cooperation with a number of renowned universitiesand
innovative practitioners assures that even long established products
and schools of thought are critically questioned again and again.
Thinking in terms of complex treatment systems, Komet has come up
with up-to-date complete solutions, such as the Komet systems for the
mechanical root canal preparation, post build-up or implantology. In all
cases, the starting point is based on the specific requirements of the
user, depending on the respective indication.
The diversity of systems allows the user maximum freedom to select
instruments perfectly matched to his own individual requirements.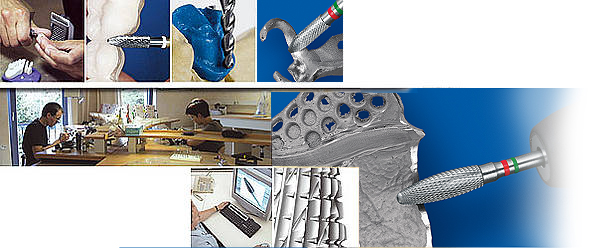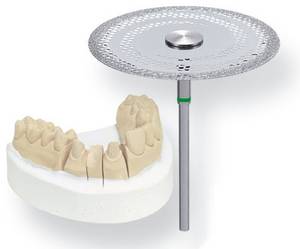 We point the way to the future in the field of dental technique. One of the everyday challenges to be met is the handling of hard to cut materials.
As a result of intensive research and development in collaboration with dental technicians in and outside Germany, innovative blade geometries and reliable high-quality tools were developed.
The result is impressive – dental technicians all over the world have come to appreciate their personal Komet tools for the fabrication of aesthetically pleasing prosthetic work. Komet tools allow technicians to make full use of their handicraft and artistic talents.

Perfection for perfectionists.
This applies especially to the milling technique. There is no better choice than Komet milling cutters.
CAD
Special attention is paid to details when Komet staff working at ultramodern workplaces are putting ideas into practice. The result of this dedicated work is the development of tools which are often exclusively available from Komet.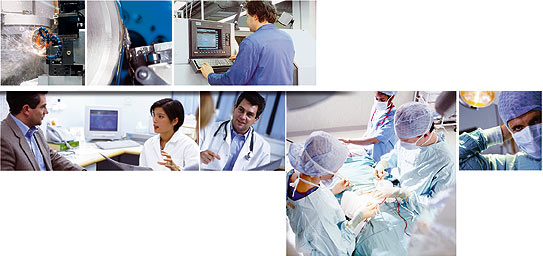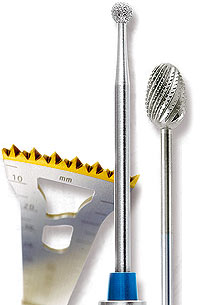 Komet's experience gained in the dental field and its established reputation world-wide for high-quality precision instruments were the deciding factors for the foundation of a new business line, Komet Medical.
Today modern CNC-controlled manufacturing procedures allow us to implement ideas and to manufacture instruments of a precision and quality which was unthinkable until very recently.

The result are innovative and reliable rotary instruments and saw blades for gentle use in areas such as hip and knee endoprosthetics, bone surgery as well as ENT and neurosurgery.
The Komet Medical range offers surgeons a wide choice of instruments for all conventional power systems and connections.
Computer Technology  – and conscientious work also mean reproducible results and certified quality.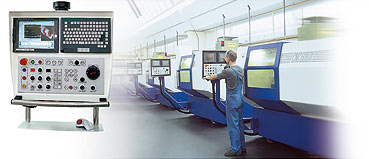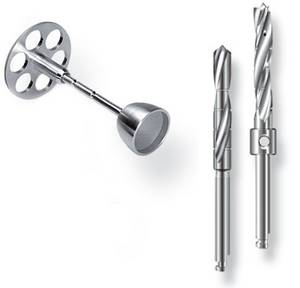 Due to its experience in this field, Komet is a recognised authority in the production of precision parts made of titanium, tungsten carbide and steel.
According to customers' specifications, we manufacture appliances such as titanium implants for middle ear surgery, implantable housings for hearing aids and rotating instruments for a number of renowned implant manufacturers.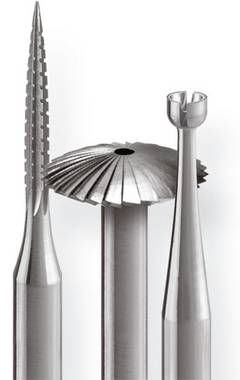 Komet tools are first choice whenever precision work on tiny details is required, which is why the international jewellery industry as well as jewellers and goldsmiths put their trust in Komet quality products as well.
The business line Komet Industry ranks among the most dynamically growing lines within the Komet Group.
Just like our dental and medical customers, Komet Industry's customers are offered a vast range of innovative products and a friendly and reliable customer service.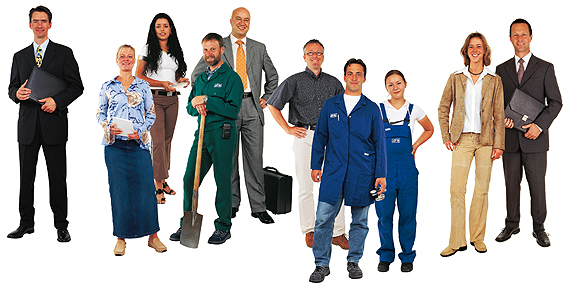 The most valuable asset of a company is and will always be the know-how
and the motivation of its staff. This is particularly true as far as the high-
technology production of sensitive products is concerned.

This is why we employ highly qualified expert personnel in a variety of
different areas, and we invest in the training and further education of
our employees.

The "Komet-Family" is a strong and competent partner you can always
rely on.