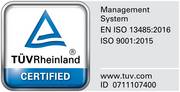 Co. Gebr. Brasseler GmbH & Co. KG practises a Quality Management System which is certified according to standards EN ISO 9001 and EN ISO 13485 for the development, manufacture and distribution of medical and industrial products.

This serves predominantly to ensure that all corporate procedures are focused on compliance with the wishes and expectations of our customers.

For us, the fulfilment of even the highest customer expectations is therefore not left to chance, but is based on clear, concise guidelines and procedures. The resulting quality can therefore be reproduced at any time.

Our special know-how as well as the most recent machine and installation technologies play a decisive role when it comes to implementing our philosophy, i.e. to comply with the highest expectations with the help of appropriate and innovative instruments, tools and services.